Der gesamte West Highland Way
Milngavie nach Fort William in 7 Wandertagen Reisecode: WH8
Wir bieten 4 Wanderreisen, die die gesamte Strecke umfassen – je länger ihr Urlaub, desto weniger laufen Sie jeden Tag.
Diese Wanderreise ist für den erfahrenen Wanderer gedacht, da sie den ganzen West Highland Way in sieben Tagen abschließt. Wenn Sie fit sind und reichlich Wandererfahrung haben, und vor Allem den kompletten West Highland Way vollenden möchten, dann ist diese Wanderreise für Sie geeignet.
| | | Meilen | Km |
| --- | --- | --- | --- |
| Tag 1 | Nach Milngavie für die erste Übernachtung fahren | | |
| Tag 2 | Milngavie - Drymen | 12 | 19 |
| Tag 3 | Drymen - Rowardennan | 14 | 23 |
| Tag 4 | Rowardennan - Inverarnan | 14 | 23 |
| Tag 5 | Inverarnan - Tyndrum | 13 | 21 |
| Tag 6 | Tyndrum - Kingshouse | 19 | 31 |
| Tag 7 | Kingshouse - Kinlochleven | 9 | 14 |
| Tag 8 | Kinlochleven - Fort William | 14 | 23 |
| Tag 9 | Ab Fort William nach dem Frühstück abfahren | | |
Von Milngavie nach Drymen
Der West Highland Way beginnt in Milngavie, einem Vorort von Glasgow. Er führt über sanfte Hügel und Ebenen. Dies ist eine einfache, angenehme Wanderroute durch die Täler von Blane und Endrick mit guten Ausblicken auf die Hügellandschaft.
Von Drymen nach Rowardennan
Der Weg führt weiter auf einer Mischung von guten Waldwegen, mäßigen Anstiegen am Conic Hill, und Feldwegen an den Hügelflanken. Besonders malerisch wird die Umgebung, wenn man sich Loch Lomond nähert.
Von Rowardennan nach Crianlarich
Dieser Abschnitt setzt hohe Erwartungen an den Wanderer. Es geht über Felsen und Baumwurzeln am Lochufer entlang, manchmal ist 'scrambling' angesagt – d.h. man braucht Hände und Füße! Dies is ein zum Teil abgelegener und herausfordernder Abschnitt des Wegs, besonders nördlich von Inversnaid.
Von Crianlarich nach Inveroran
Typisches Hochland-Wandern durch Bergschluchten und über niedrige Bergpässe mit mäßigen An- und Abstiegen auf meist gut ausgelegten Pfaden und Wegen. Es gibt viele wunderschöne Aussichten auf die Berge an diesem Wandertag.
Von Inveroran nach Kinlochleven
Ein mäßiger bis herausfordender Wandertag mit atemberaubender Landschaft. Das Terrain ist meist gut begehbar, aber es ist sehr ungeschützt und kann bei schlechtem Wetter schwierig begehbar werden – bitte gut vorbereitet sein!
Von Kinlochleven nach Fort William
Nach einem steilen Anstieg über Kinlochleven hinaus und dann auf schroffen Pfaden durch den Neviswald, endet der letzte Wandertag mit einem sanften Abstieg nach Fort William.




Mittelschwer dis Herausfordernd
Jedes Jahr schaffen Tausende von gewöhnlichen Wanderern den West Highland Way. Bitte nehmen Sie trotzdem in Kauf, das dies eine herausfordernde Route ist, die durch abgelegenes und bergiges Terrain führt. Die Wanderreisen beinhalten auch längere Wandertage. Dies ist eine Route für erfahrene Wanderer. Terrain: Abwechslungsreich – Talwiesen, Vorberge, Seeufern, wildes Moorland und hohe Bergpässe – diese Wanderung hat alles!
Wie ist der Boden unter den Füßen? Die Route ist größtenteils gut erhalten, es gibt aber einige Abschnitte, wo das Wandern härter wird, und andere Abschnitte, wo es schlammig werden kann. Der Uferweg an Loch Lomond entlang ist für seine schwer-begehbare Baumwurzeln berüchtigt.
Wie viel Auf und Ab? Eigentlich recht wenig, wenn man bedenkt, wo man sich befindet! Insgesamt 4000m Steigung, mit Anstiegen von 300 bis 500m an den meisten Wandertagen. Die zwei größten Anstiege, 500m auf dem Devil's Staircase und 700m über Kinlochleven hinaus, bleiben für die letzten zwei Tage aufbewahrt.
Wegbeschilderung: Gut.
Navigation: Da die Wegbeschilderung gut ist und die Route gut definierten Pfaden folgt, gibt es keine besondere Navigationsschwierigkeiten. Es gibt jedoch einige Strecken durch abgelegene Wildnis (Rannoch Moor) und auf höherem Bergterrain (wo man sich bei schlechtem Wetter im Nebel befinden kann). Man braucht also Navaigationskenntnisse – hier möchte man sich nicht verlaufen.
Klima: Einige Leute vollenden die ganze Route im Sonnenschein, aber die meisten werden zumindest etwas Regen erleben und auf den höheren Strecken möglicherweise auch Nebel. Im frühen und späten Saison sind Hagel und Schnee möglich. Gute Bekleidung und wasserdichte Jacken und Hosen sind unverzichtbar, auch wenn letztere schließlich doch nicht oft gebraucht werden.
Accommodation
Overnight Bed and Breakfast accommodation in selected hotels, farmhouses, village inns, guest houses and family B&Bs.

Full English or Continental breakfast.

Guidebook
A detailed guidebook with route information, maps, photos and background information.
Information of Services Along the Route
A comprehensive Service Info sheet, including services such as cash points, banks, post offices, village shops, inns, cafes and taxis.
Maps
A waterproof 1:40000 map from Harvey Maps covering the whole route.
Personal Itinerary
A personal itinerary setting out each overnight stop, including large scale maps of each accommodation, to ensure you find it easily.
Emergency Telephone Support
If you get in to difficulties during your holiday, we are always available to help, even out of office hours.
15% discount at Cotswold Outdoors
We will issue you with a 15% Discount Card valid at all Cotswold Outdoor stores, and online, for the whole year on confirmation of your booking.

Options

Luggage Transport
We will transfer your luggage between each overnight stop – if you leave your luggage at the accommodation when you set off in the morning, it will be moved on to your next B&B. You only need to carry a small day sack with the clothes and provisions you require during the day's walk.
Packed Lunches

Provided for each day's walking and recommended on this holiday as there will not always be a handy shop or cafe on the route.
Off Road Parking
If you are travelling by car we can usually arrange off road parking for the duration of your trip. (There may be a small charge for this).
Arrangement of return transport
We can also arrange your transfer back to your car, (or advise you when public transport is a better option)!

What's not Included

Evening Meals
Your evening meal isn't included in the package, but we include full details and recommendations for each evening meal in your itinerary. You will normally be within walking distance of a pub and/or restaurant, or where there is good food available at the accommodation, we'll book that for you. Allow about £20.00 per night.
Transport to the Start & Away from the Finish
Have a look at the "Travel Info" tab above for suggestions. If you're still struggling, get in touch and we'll help you sort it out.
Travel Insurance
Even if you are based in the UK travel insurance is worth having.
One of the great features of our West Highland Way holidays is the quality of the accommodation, including small country house hotels, guest houses, bed and breakfasts and farm house accommodation. In selecting the accommodation we look for helpful, friendly hosts with good quality, characterful accommodation close to the trail. We always try to arrange en suite accommodation, i.e. rooms with their own bathrooms for each night of your stay. However, in some of the more remote locations accommodation is limited and occasionally we may have to book rooms with shared bathrooms for one or two nights of your holiday, (especially if the booking is made at short notice), but we will always let you know if this is likely to be the case.
Single Rooms We are happy to book single rooms on this walk but cannot normally book more than 2 for any one group. Single room bookings include a supplement.
Here are a few examples of the accommodation we use along the West Highland Way: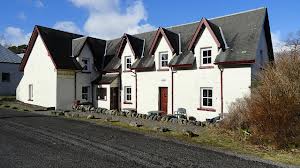 The Inveroran Hotel
The Inveroran Hotel is an old Inn on the old drovers trail that is now known at the West Highland Way. The small bar is full of character and a great place to meet, chat and exchange stories with other walkers. A characterful Scottish Inn, in spectacular surroundings.
Visit their website at: www.inveroran.com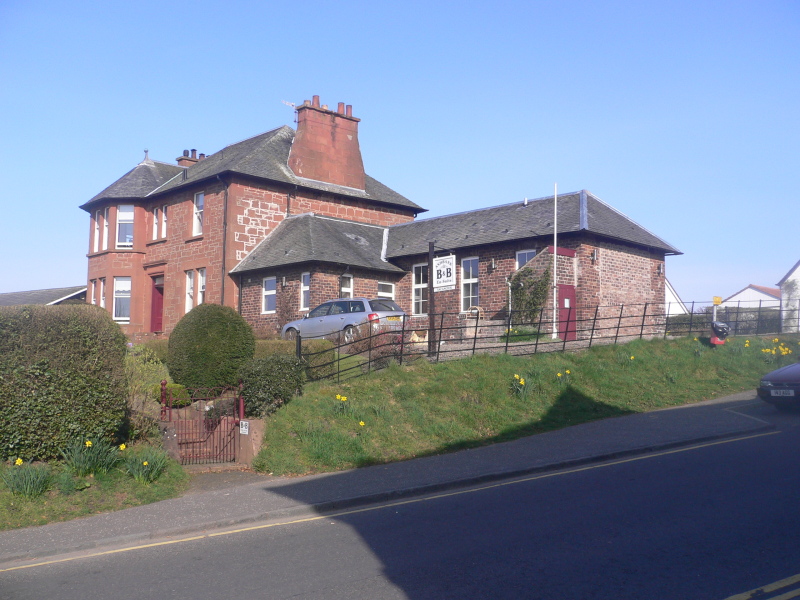 Ashbank B&B
Ashbank is a really cosy guest house run by a lovely and welcoming couple who do all they can to make your stay an enjoyable one. In the beautiful village of Drymen and not far from the pub, Ashbank is a popular choice for walkers. You will be sure to get an excellent breakfast and enjoy your stay in this delightful B&B.
Visit their website at: www.ashbank-drymen.co.uk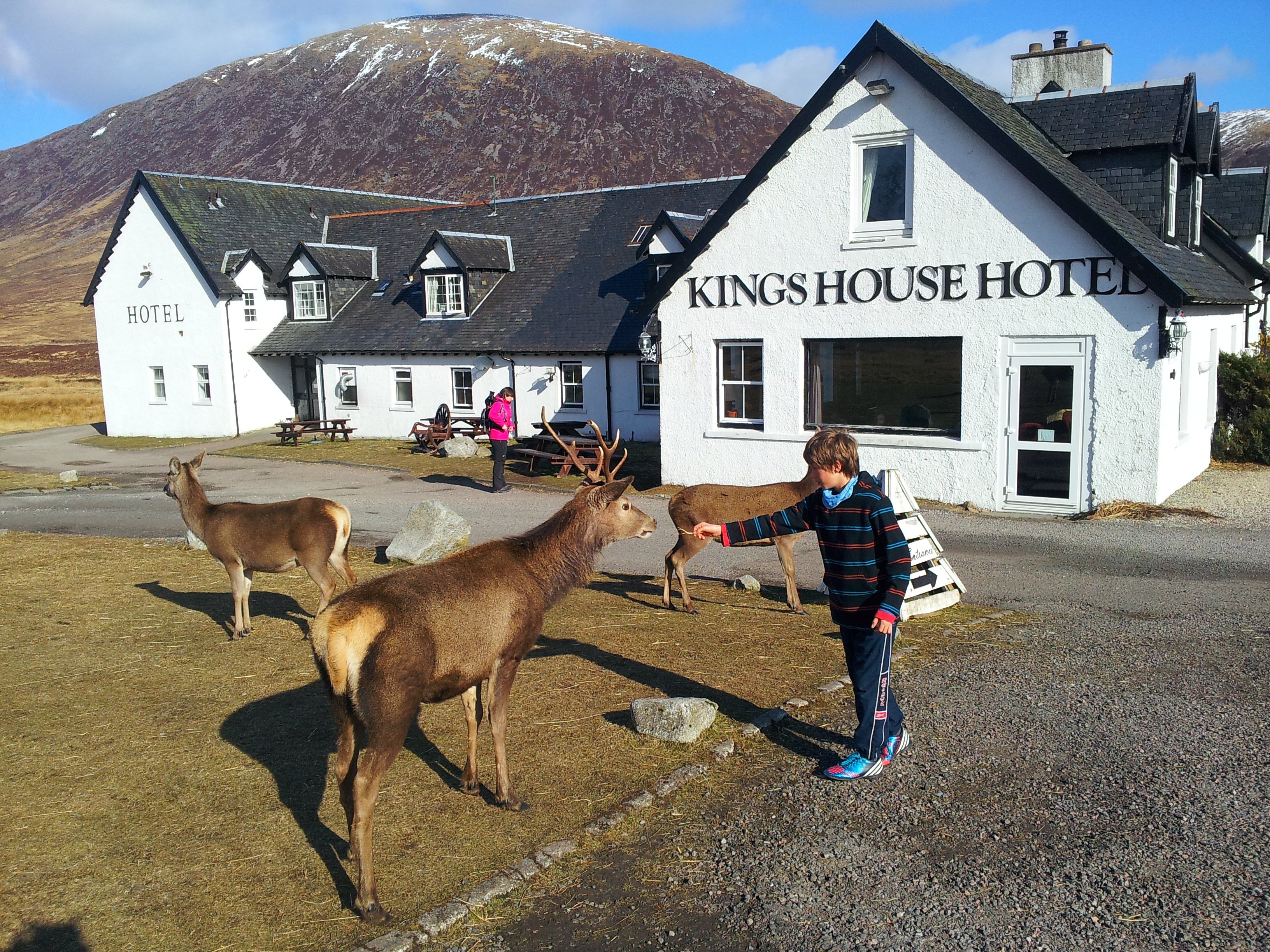 The Kings House Hotel
Possibly one of Scotland's oldest Inns, The Kings House is in a very remote location in the Highlands. It has provided respite for travellers for centuries, offering shelter from the elements and rest from their journeys. You will appreciate the comfortable accommodation, hearty meals and delicious breakfasts.
Visit their website at: www.kingshousehotel.co.uk
Allgemeine Reiseinfos zum Gebiet des West Highland Way liefern wir in Ihrem Reiseinfopaket, das auch gegebenenfalls Bus- und Zugfahrpläne beinhaltet. Ihr Reiseinfopaket enthält auch individuelle Lagepläne mit detaillierten Anweisungen darüber, wie sie ihre erste Unterkunft per Auto oder zu Fuß vom nächstgelegenen Bahnhof oder Bushaltestelle erreichen.
Zugfahrpläne finden Sie bei www.qjump.co.uk, wo man sich auch die Fahrkarten im Voraus besorgen kann. Busrouten und Fahrpläne finden Sie bei www.traveline.info. Wenn Sie gesichertes Parking bedürfen, bitten fragen Sie bei uns nach.
Anfahrt:
Per Flugzeug: Der nächste Bahnhof ist in Glasgow (GLA). Von hier aus gibt es häufige Busse ins Zentrum Glasgows (ca. 25 Minuten Fahrzeit). Milngavie ist 11 km von Glasgow entfernt, und Sie haben eine Auswahl von Reisemöglichkeiten: mit einem Taxi vom Stadtzentrum, mit dem Zug direkt von Glasgow nach Milngavie (25 Minuten), oder mit dem Bus (40 Minuten).
Per Zug: Milngavie hat einen Bahnhof. Die meisten Züge fahren über Glasgow.
Mit dem Auto: Milngavie liegt 11 km nördlich von Glasgow. Nach Glasgow fahren Sie nördlich auf der M6 Autobahn und danach auf der A74 (M). Von Glasgow aus führt die A81 direkt nach Milngavie.
Die Rückfahrt von Fort William:
Per Zug: Fort William hat einen Bahnhof. Die meisten Züge fahren über Glasgow (GLA).
Mit dem Auto: Fahren Sie zuerst Richtung Glasgow (172 km) oder Edinburgh (219 km), je nachdem, in welcher Richtung Ihr Zielort liegt.
Tyndrum
Today's village earns much of its living by providing goods, services and accommodation to passing travellers, mostly motorists heading up or down the busy A85 and A82 trunk roads. In doing so, Tyndrum is carrying on a long tradition. The village's origins date back to the days when droves of highland cattle from the north and west passed through en route to markets in central Scotland bringing lots of tired, hungry and thirsty drovers with them.
This is a good location for a "rest day" in order to travel along the picturesque West Highland Train Line to visit Oban – a coastal resort with a difference - the town and its bay are virtually land-locked, giving it a sheltered setting. For memorable views walk up Oban Hill to McCaig's Tower or take a walk to Ganavan Sands and relax on the beach.
Fort William
Fort William ist die größte Stadt in den westlichen Highlands und liegt am Kopf von Loch Linnhe. Nicht gerade die hübscheste Stadt, sie hat jedoch viele Läden und besonders Outdoor Läden, wo man sich nach Wanderausrüstung umschauen kann. Viele Leute nehmen sich hier einen Rasttag, um Ben Nevis (den größten Berg Großbrittaniens) zu besteigen. Dies erfordert einen langen Wandertag, und das Wetter kann recht unsanft werden, man sollte also Kondition haben und gut vorbereitet sein!
Preisspanne

EUR (€)

Nur Unterkunft, Karte und Reiseführer (Buch)
939 €
mit Gepäcktransport
1020 €
mit Lunchpaketen
1015 €
mit Gepäcktransport und Lunchpaketen
1092 €

Andere Optionen

Zusätzliche Nächte
90 €
Einzelzuchlag
63 €
Solo Luggage Supplement (per day)
0 €